Why are brands embracing RCS messaging?
In the banking industry, marketers usually adopt a multi-channel approach to target customers, which consists of a combination of email, phone calls, SMS, banking apps, etc. However, customers are busy and don't want to stop and start tasks. They want a seamless digital customer experience that lets them do what they have to quickly, without having to switch from one channel to the next. In addition, using a multi-channel approach doesn't guarantee that customers will see or respond to requests.
This is where RCS comes in. With a long-term goal to replace text messages, many have come to call the app a game-changer.
RCS combines features from apps like Facebook Messenger and WhatsApp. It also lets businesses across industries use features like rich media and analytics to learn and communicate with customers.
5 ways RCS is improving the banking experience
1. Improves brand consistency and customer trust with richer content
As the banking industry is trying hard to build and maintain a strong brand, the plain text just won't do anymore. In recent years, multimedia messages have given rise to the need for richer media. RCS can support both rich media and richer content and communication. Banks can greatly benefit from the technology as they can include a horizontally scrollable carousel with rich cards, suggestive replies, branch locator, and more.
By incorporating branding into their messages through RCS, banks can match their overall branding, in order to reinforce the hard-won trust. And by building a consistent omnichannel user experience, they can maintain trust and recognition.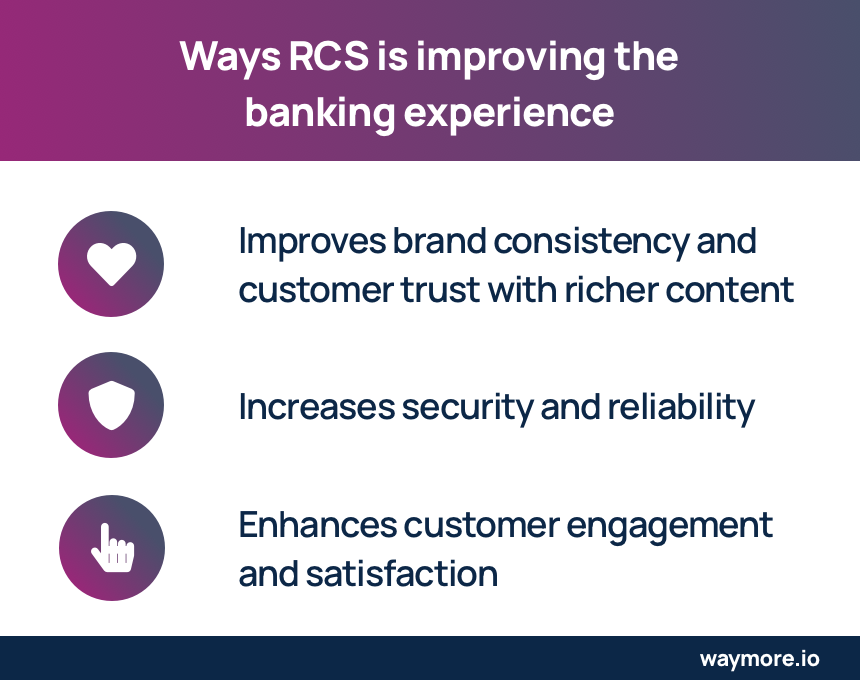 2. Increases security and reliability
Digital transformation in banking has brought a sense of fear to customers, in terms of data security. Not neglecting the vitality of personal information involved during banking transactions, Μore than 60% of customers are worried their data is at risk and can be misused.
RCS Business Messaging aims to eliminate this fear with communication from trusted companies and brands. It uses client-to-server encryption and reduces the risk of message hacking. Additionally, the use of branding, customized brand logos, and verified symbols, makes customers believe that the channel they are using is secure and reliable.
3. Enhances customer engagement and satisfaction
Text messages are as the name suggests, just text-based, limiting customer responses to numbers or one word.
RCS offers both brands and customers more options. By using features such as group chats, videos, audio messages, high-resolution images, forms, and surveys, banks can enable real conversations and make the customer experience more interactive, personalized and convenient. The use of interactive and engaging personalized messages and communication have always impacted customers' happiness and satisfaction. 
Banks and other financial services institutions have been slow at adopting personalization strategies. Many are now attempting to catch up, realizing its importance and RCS can help towards that.
4. Ensures quick delivery, quick updates and quick payments
SMS texts are known for their incredible open rate, and that they are typically read within 3 minutes. RCS Business Messages can do even better, with messages typically being read in just 2 minutes. RCS Business Messaging enables banks to better understand customers' responses, facilitates reading of receipts, and better make sense of the choice of their suggestive replies. These features not only make the delivery of messages quicker but they help in maintaining conversations between banks and their customers.
Ιn addition, with RCS, banks can send quick updates to let clients check their outstanding balance or to verify the authenticity of an unusual transaction. 
And that's not all. RCS also allows customers to make payments within the message, speeding up processes and making it easy for customers to complete transactions.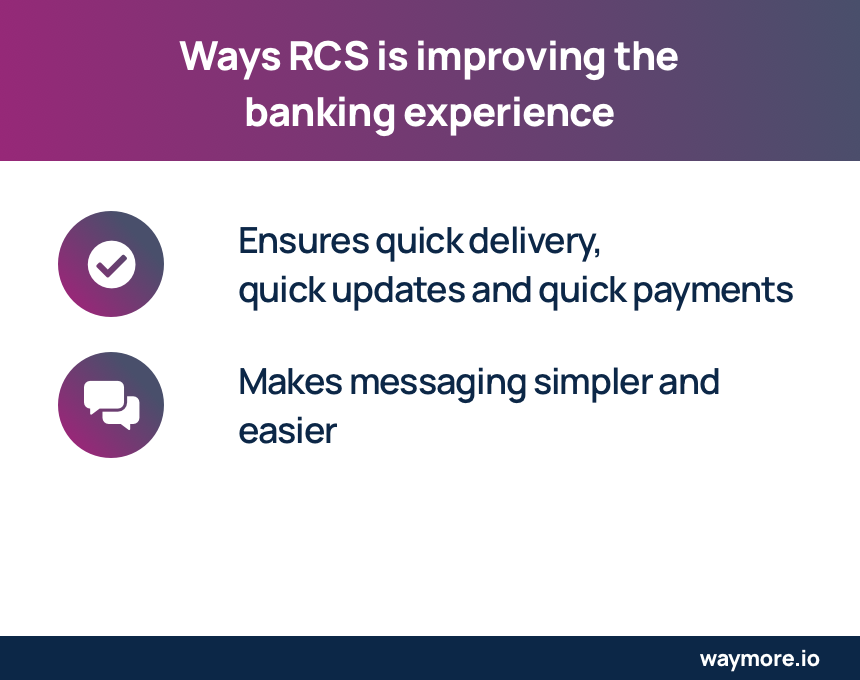 5. Makes messaging simpler and easier
Smartphone users are overwhelmed by the apps they use daily. Yet, when they interact with brands, they prefer to have it all in one place. RCS Business Messaging can give them that through the SMS app.
It is easy for customers to understand it and use it to complete various banking transactions with ease. It not only offers great technical superiority, but also simplicity.
From info on transactions, to real-time two-way communications, and rich up-to-date information on one channel, on any smartphone.
Ready to get ahead with RCS?
Although it is being primed to replace SMS, RCS is still in its early days, with mobile carriers still slow at adopting it. In order for banks to benefit from the potential of RCS, more mobile networks need to support the technology.
However, it is important for banks to keep RCS Business Messaging on their radar as it is a power pack of features that can serve users with an innovative and transformative user experience.