Omnichannel careers are here to stay. The idea of an omnichannel workforce is already changing the way we work. In fact, Omnichannel marketing is the most used catchphrase in the recruitment world today. It makes it easier to find the right candidate and it is the first step to a successful hire. 
 Omnichannel recruitment is a strategy used on job openings to target and recruit candidates on different marketing channels. omnichannel careers help recruiters to get a wide range of experienced professionals in real time.
Candidates will have a more meaningful interaction with a job ad through omnichannel recruitment marketing. Having a singular message and digital presence across multiple platforms helps track the candidate's journey and their level of interest. Omnichannel marketing integrates seamlessly with both conventional and online strategies. 
According to Aberdeen Group companies with extremely strong omnichannel customer engagement retain on average 89% of their customers. This is compared to 33% for companies with weak omnichannel customer engagement.
The above data may seem true for sales and the retail industry. However, it also applies to implementing an omnichannel campaign in the recruitment industry. Omnichannel careers determine targeted candidates, their experiences, and the recruitment outcomes.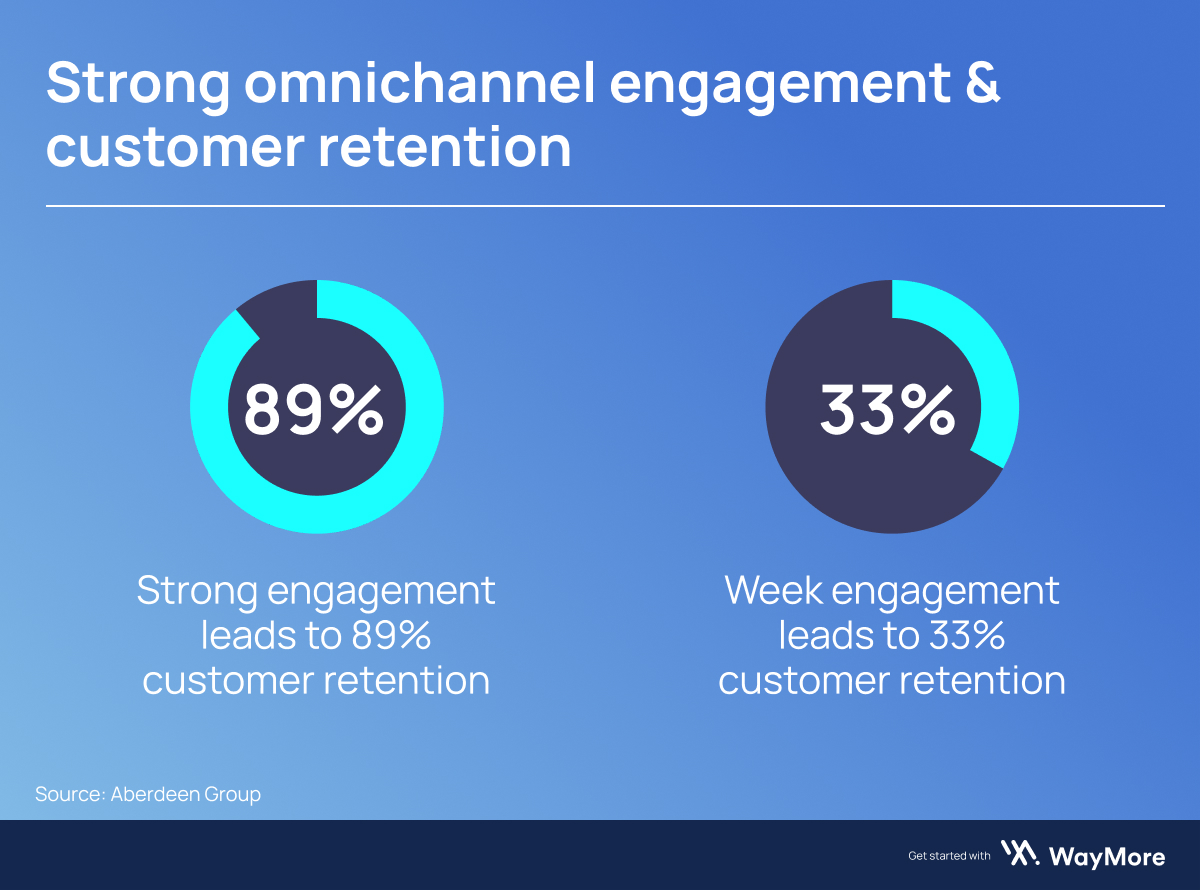 Difference Between Multichannel and Omnichannel Marketing In Recruitment
When recruiters hear of omnichannel marketing, the first thing that comes to mind is advertising across multiple platforms. However, more is needed to capture the recruitment strategy fully. The significant difference is that omnichannel recruitment focuses on providing a seamless customer experience throughout the recruitment process. In contrast, multichannel focus on distributing the message across one or two marketing channels.
Omnichannel recruitment allows applicants to engage with an ad through multiple channels. This includes desktops, mobile devices, employee referrals, employee engagement, and job boards such as Glassdoor and Indeed.
Rather than treating marketing channels as independent silos, candidates can engage with a job listing/organization between channels as they intertwine. —
 On the other hand,  multiple channels offer candidates different channel preferences. Talent acquisition and recruitment through multiple channels are flexible. However, it expects candidates to interact in the confines of the channel, and the experiences do not intertwine.
Reasons To Add Omnichannel Carreers To Your Strategy.
Finding the best talent is easy; you must know where to look. Where platforms are the applicants? Are they on job boards or social media? These are a few things to consider when mapping your omnichannel recruitment marketing strategy.
With an omnichannel careers strategy, recruiters can sit down with your team to provide a unified and consistent applicant experience. This is regardless of the career site a potential employee chooses to interact with the job listing.
Omnichannel marketing in recruitment is often based on job seekers' experience. The company integrates different marketing channels in omnichannel careers to find the right employee. 
Omnichannel careers make the life of job seekers and recruiters easier. recruiters and Hr managers have become accessible across multiple channels. Now that we know what omnichannel marketing is, it's time to see how an omnichannel approach will benefit the recruiting industry.
1. Reach a wider audience
Using the proper recruitment channels that provide seamless experiences helps recruiters reach a wider target audience.
Omnichannel recruiting strategy focuses on maximizing the applicants' experience, ensuring a seamless experience across the board. The candidates' experience at every touchpoint is consistent and unified. Candidates may demonstrate their skills to potential employers before an interview with omnichannel careers. Job hunters have alternative and more personable ways to distribute resumes to potential employers.
Multiple marketing channels integrate and interact with one another, which will increase job seekers' satisfaction and overall experience. In addition, omnichannel recruiting integrates many channels, making jobs visible and accessible to potential candidates on many platforms. 
This slightly differs from integration as omnichannel marketing enables recruiters to utilize the software programs that come with different platforms. Many job boards automate the  omnichannel careers recruitment process, helping hr managers sift out unqualified candidates to find the right candidate.
5. Better attribution of data
Omnichannel marketing encompasses all channels. Omnichannel recruiting enables improved data collection as the recruiter understands customers' preferences and behaviors across different channels. 
By tracking job hunters' engagement across channels, recruiters better understand the recruitment journey for a more streamlined process in the future. According to the 2022 Global Talent trends reports, labor-market trends impact candidates, employees, and workplaces.
Engaging in omnichannel careers increases the pool of candidates that apply to open positions. This ensures that recruiters uncover a broad selection of skill sets that will be valuable assets to the company.
7. Better efficiency and shorter Recruitment times
Omnichannel marketing in recruiting enables better efficiency and lead generation. Some channels enable job seekers to create short videos of how their experiences fit into the role they are applying for. 
As a recruiter, you want to sell your organization as a reputable brand to work with. The organization is searching for the right candidate, while the candidate searches for a reputable organization with the right work environment.
With omnichannel recruitment marketing of jobs, recruiters will have a comprehensive recruitment strategy that will translate into employer brand awareness. 
9. Increase engagement and retention
Providing applicants with a seamless experience enables recruiters to increase the response rate by up to 46%. With omnichannel marketing recruiting, candidates can find jobs in a shorter period. This is because they see it across multiple platforms, remember the job listing, and apply.
10. User-friendly branding
Companies that utilize omnichannel strategies to attract top talent may stand out from the competition. Omnichannel careers help recruiters reach out to potential employees across different channels. 
There's potential for omnichannel careers to change the recruitment sector. For this tactic to work, HR managers and recruiters must focus on the consistency of their corporate identity across all platforms
Omnichannel marketing can revolutionise the recruitment sector.