Black Friday in 2021 and why is it important?
Black Friday is just around the corner as it falls on 26 November for 2021. Over $9 billion was spent by consumers on Black Friday and Cyber Monday in 2020, and that number continues to grow as online shopping becomes more popular. This makes Black Friday (at least at the moment) the second biggest day of online spending in the US (behind only Cyber Monday in 2019).

The big winner in all of this is e-commerce, as users are choosing to shop online to avoid crowding in stores amid COVID-19 concerns.
Black Friday 2020 was largely digital and this was made possible by the widespread adoption of e-commerce this year. The unavailability of physical stores during the lockdown earlier this year, as well as the need for social distance, was a key factor in the adoption of e-commerce, especially for the older generation.
The growth of online shopping is evident by looking at the record online sales from this period this year.
Let's take a look at some more interesting Black Friday insights:
Black Friday is a great opportunity for e-commerce retailers to generate more leads, increase sales and conversions and raise awareness of their brand to the wider community.
To achieve this you will need to create a unique digital omnichannel campaign that will set you apart from the competition. Using marketing automation and a platform that can provide you with everything you need, like the all-in-one platform WayMore, will get you there.
Key tips to build a successful campaign for this Black Friday
1. Send personalized promotional emails
Segment your subscribers into specific groups based on distinct characteristics such as location, interests, and purchase history. Then personalize each message and offer a value that can't be dismissed.
Considering that our inbox will be bombarded with emails of special store offers, etc. you need to devise an effective, eye-catching, engaging, and unique email subject line. You need to apply a sense of urgency to the subject lines.
Compared to a generic newsletter without personalized items, we've seen that personalized emails yield an average 20% conversion rate, encouraging your visitors to return and get that Christmas or Valentine's gift for their loved one – this time at full price – from your store. Achieve successful segmentation & personalization with WayMore's advanced analytics.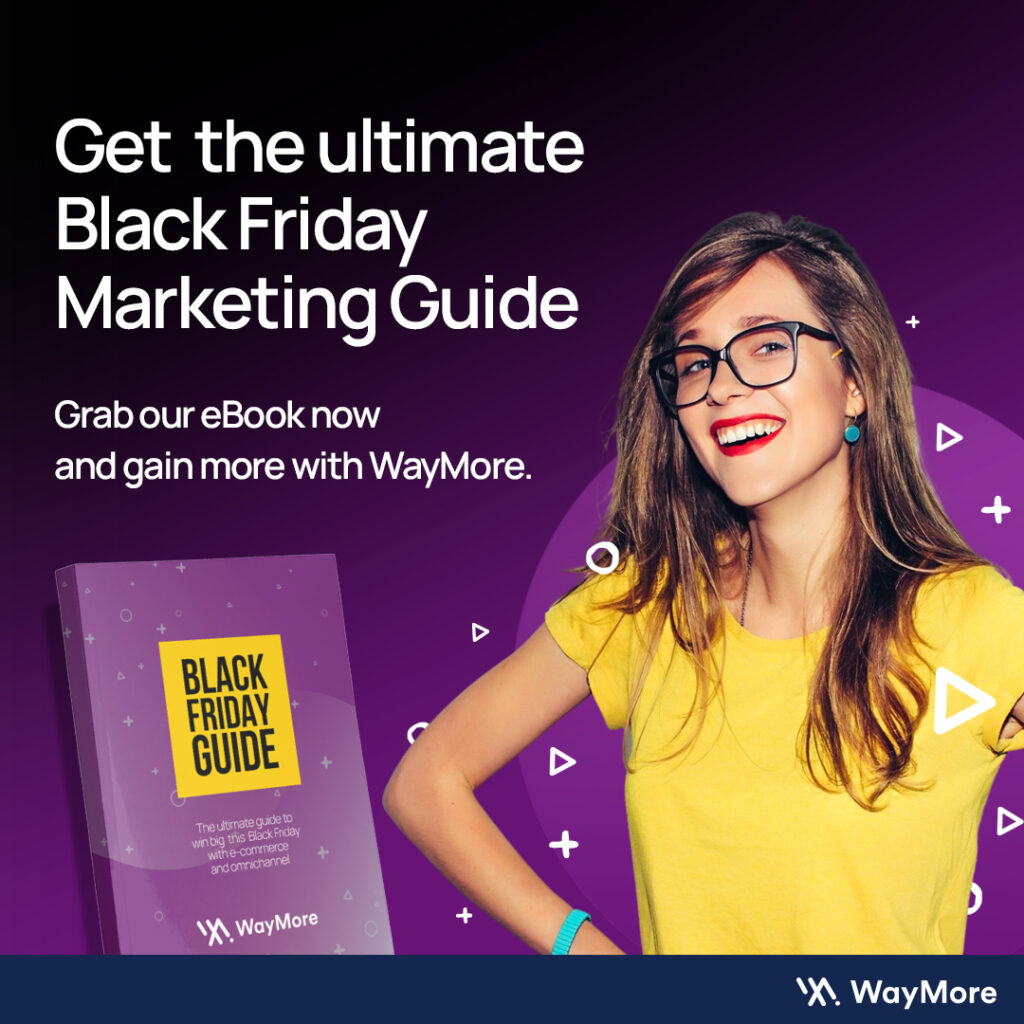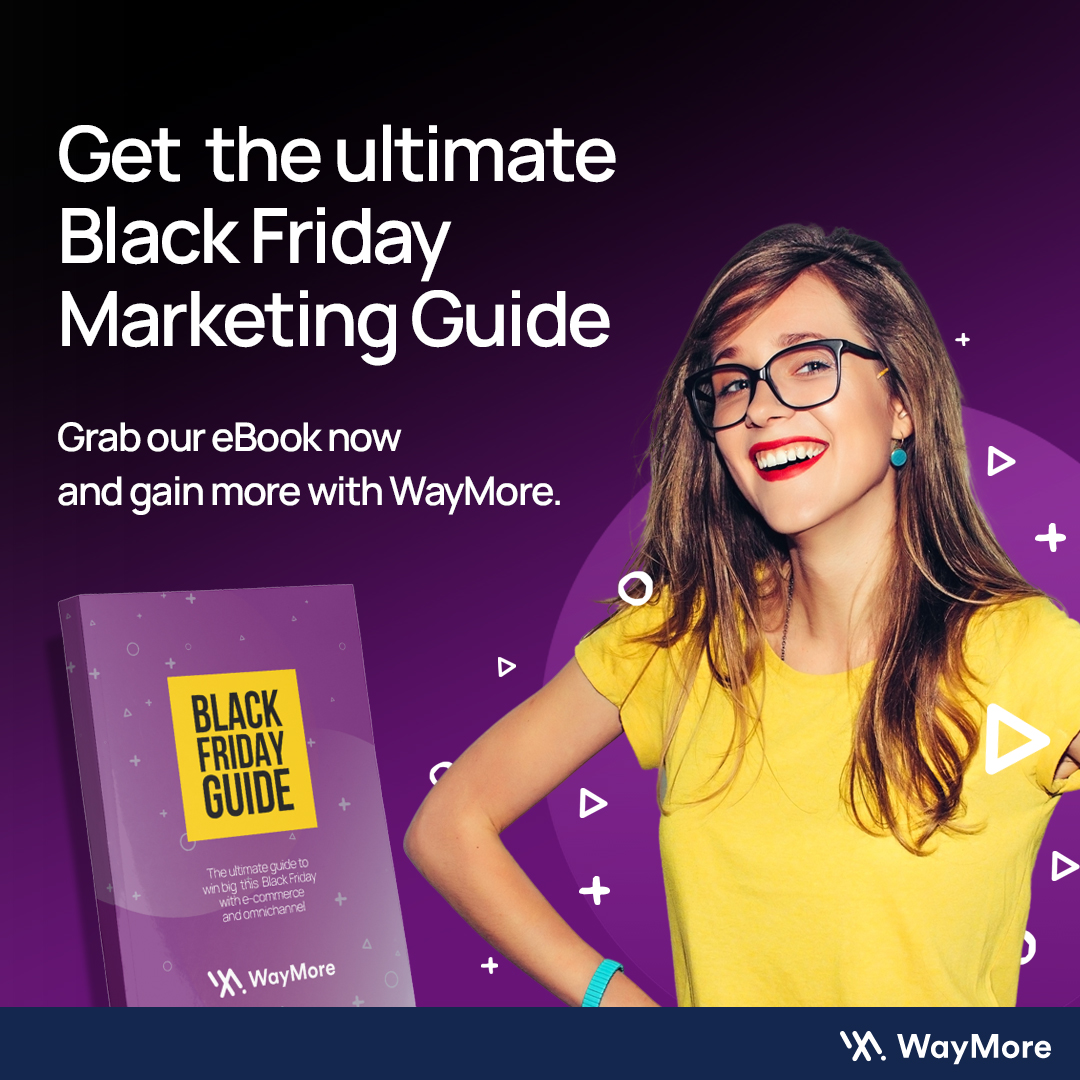 2. Customise your landing page
The average landing page conversion rate across all domains is around 2.35%.
Many people search for products before Black Friday. For this reason, you need a landing page strategy that will help your conversion efforts. So, what you need to do is boost sales on your landing page before the actual BF weekend comes.
There are several ways to use landing pages to promote Black Friday sales. For example, you can showcase your newest merchandise, highlight your best-selling products, encourage customers to stock up on their favorite products, create an emergency due to limited quantities, etc.
A shopping-enabled landing page allows you to take full advantage of the holiday shopping season, regardless of the size of your business.
You need to deliver a simple and clear but strong call to action with a unique and relevant design. Remember to promote something valuable and include it with your CTA. You can also refer to other parts of your e-commerce store.
3. Don't forget about cart abandonment
The week before Black Friday is a huge opportunity to position your email and SMS retargeting strategy to abandon your cart accordingly. Shoppers abandon their carts all the time for a variety of reasons, but having the right tools to remind them of their purchase can recover online sales at a steady pace.
To win back customers who abandon your cart, you need to automate this process. So, you need to start an automated workflow that is triggered when someone abandons a cart in your store. For example, you can use a combination of SMS, an email and a Facebook messenger retargeting. All automatically through a single platform.
4. Create a sense of urgency
As one of the most effective marketing tactics, creating a sense of urgency works for campaigns. You can for example create unique notification pop-ups or a progress bar that pops up and announces that there are x hours & minutes left before you miss the opportunity or when the specific product you are looking for runs out! 
Something like this will convert many of your visitors into paying customers during Black Friday week.
5. Put customer service first
80% of online shoppers stop doing business with a company because of poor customer service. You can have great products and beautiful campaigns, but if you don't give website visitors what they need, they'll leave anyway. During periods like Black Friday, this becomes even more pronounced.
That's where chatbots come in. Chatbots use AI to have human-like conversations with customers, enhance brand loyalty and boost engagement. Even when none of your live representatives is available, chatbots work 24/7 to take care of your online users.
Get those Black Friday baskets ready!
Now is the time to put your Black Friday 2021 digital marketing tips into practice and start preparing your business for more sales!
If you're feeling overwhelmed with trying to promote your business, WayMore has you covered!
The Black Friday season is a great opportunity for eCommerce retailers to increase sales and more. But to stand out from the competition and to do so, you need to create a unique digital omnichannel campaign. Learn how marketing automation and the WayMore platform can help you achieve this.