Traveling is a popular leisure activity, but most consumers report strongly disliking looking for  hotels. They find it tedious and stressful. As a hospitality business you'll need to make this process easier for consumers. The best way is an omnichannel marketing strategy to provide an optimized customer experience. You want to approach users on their terms to maximize customer engagement and customer retention. Omnichannel marketing can help you achieve that.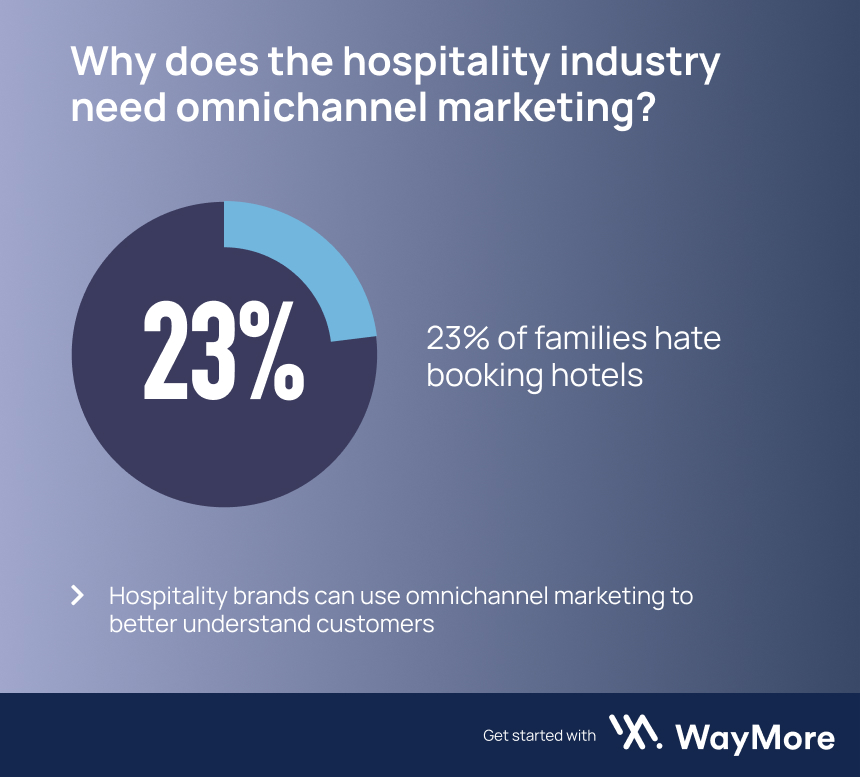 Why does the hospitality industry need omnichannel marketing?
Up to
82%
of US adults prefer booking their trips online. So the hospitality industry must consider the internet for their customer engagement strategy. The internet has already
changed
the hospitality industry. Omnichannel marketing (marketing on multiple channels) is the most effective way to take advantage of these trends.
Omnichannel marketing in hospitality provides the best experience to customers at every touchpoint: on the phone, social media, and live chat. Doing so maximizes their chances of winning consumers. Omnichannel hospitality marketing is the best way to boost customer engagement.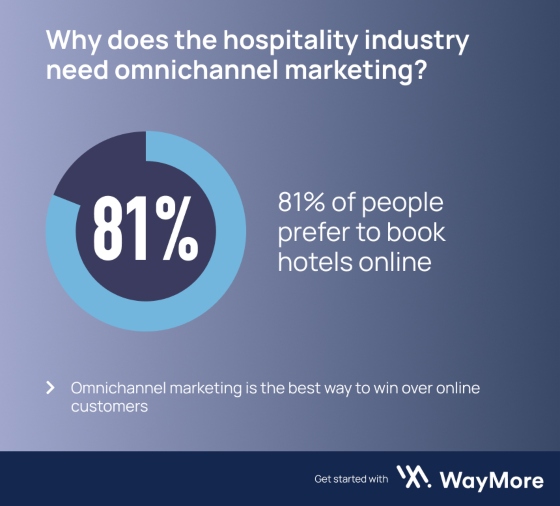 How has the internet changed the hospitality industry?
To fully appreciate the relevance of omnichannel marketing, it's important to first understand how the internet affects the industry.
1. Increase in online accommodation searches
72%
of mobile bookings happen 48 hours after consumers search terms like 'tonight' and 'today.' Most people book their trips quickly. Users no longer call hotels or go through tour operators.
Users who search for hotels online are more likely to convert than users through traditional channels like tour agencies. 
What does this mean for the industry? 
Hospitality businesses are already aware that most consumers holiday for 2 weeks in the summer. Booking hotels and tickets can also be a stressful experience for them. The solution for most consumers is to rely on their phones. 
Hence consumers value online hotel booking for its convenience. Hospitality businesses need an omnichannel strategy to provide consumers with a convenient customer journey to win the
booking race
.
2. Influx of new customer segments
Customer segmentation is more advanced in hospitality today than ever. Some people travel on a budget. Others travel for luxury. And others even travel for work: today's digital nomads. 
Many of these customer segments are new and only exist because of the internet. 
What does this mean for the industry?
Hospitality service providers need dynamic strategies. They must tailor their content to each market segment.
54%
of customers convert from segmented pushes. The best way to target different segments is with an omnichannel customer experience. 
Hospitality businesses can use the most relevant channel for each segment to provide a successful omnichannel experience. For example, older travelers are more likely to respond to email marketing. And younger travelers prefer social media content.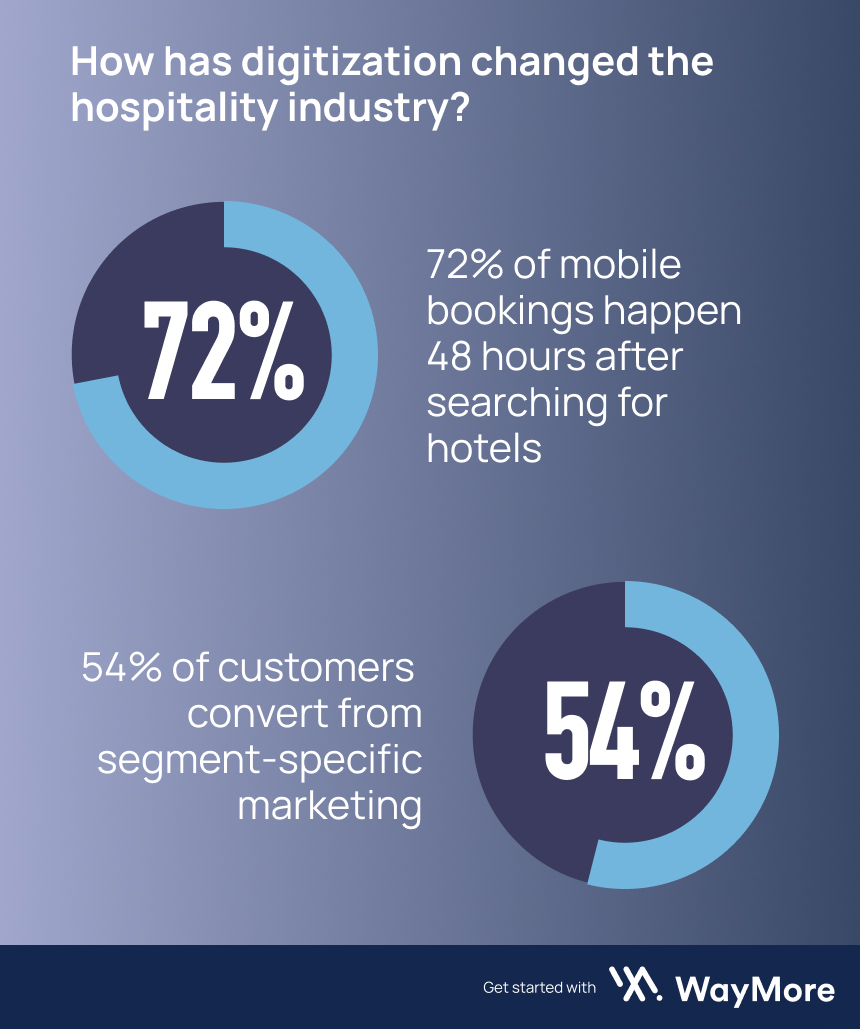 3. Increase in demand for experienced-focused travel
Skift shows
52.8%
of people  prefer experienced-focused travel. Social media and the internet have made people want to enjoy traveling more. This led to the rise of Airbnb and other popular economy services. 
Millennials and Gen Z particularly prefer traveling with economic options. Sharing economy and the experience economy are the most popular among them. 
What does this mean for the industry?
The hospitality industry is increasingly moving towards experience marketing. Picture a luxury beachside resort in Thailand. It paints an attractive picture for most leisure travelers.
Omnichannel marketing lets hospitality businesses curate their marketing strategies around emerging customer trends, including the focus on experience traveling.
How can hospitality brands use omnichannel marketing to boost customer engagement?
These 5 tips will help your business boost customer engagement.
1. Link travel research and payment experience
Many online visitors to your site don't convert because your payment method doesn't appear authentic. The largest gap in online user behavior is between booking and payment
The best way to remedy this is to partner with online bank gateways and e-wallets to streamline payment. Advertising that you accept different payment methods helps build credibility for your brand.
2. Use digital marketing tools to boost customer engagement
Every successful
omnichannel marketing strategy
relies on the latest marketing tools. Specifically, you want the best customer segmentation and marketing analysis for your product or service. 
You want to meaningfully record and interpret all data related to your online marketing and implement it in cross channel marketing. 
Click
here
if you would like to learn how WayMore provides this feature. WayMore has an omnichannel marketing automation
platform
that saves time and boosts brand awareness.
3. Learn from other consumer technology companies
Many of your competitors in the hospitality industry already use omnichannel marketing. You can compete with them by learning from their experience.
You want to record and interpret all online marketing data and implement it in cross channel marketing. You'll need an omnichannel marketing platform to achieve this.
You could even learn omnichannel marketing strategies from consumer tech companies in other industries, like Apple and Samsung.
4. Package the travel, hospitality and experience altogether
23%
of families report not enjoying how they book trips. They report searching for flights and hotel rooms as tedious and time-consuming. You can boost engagement by offering them a one-stop shop for their booking needs. 
Find ways to package travel and booking into your product and services. This strategy will provide increased long-term customer engagement and improved customer retention and customer loyalty.
5. Know your would-be customers
Omnichannel marketing lets you target multiple customer segments. So don't focus only on segments that easily convert. Omnichannel marketing lets you tailor marketing to each segment. 
For example, perhaps your brand prioritizes premium customers. You can access other customer segments by promoting offers on marketing channels they're more likely to use. 
Ultimately,
successful marketing
involves giving the right customer journey across multiple channels. 
WayMore Omnichannel marketing is the best way to achieve that. 
A good omnichannel marketing strategy lets you appeal to different customer segments in the best way for them.